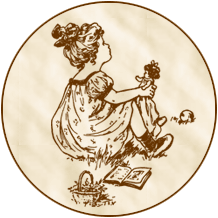 I feel as if I have been thrust quickly into the throws of parenting tweens and teens in the past few weeks. I have seen my precious little girl begin to say things and act in ways that are foreign to her personality and character. Regardless, this is my favorite season in life. While most moms and dads dread the teen years, I have been waiting for them and I am excited to walk this road with my daughter.
Regardless of my enthusiasm toward this time in her life, I have been very surprised by some of things that I have come out of her mouth recently. Surprised and concerned. Recently I heard her tell me she thought she was fat. WHAT?!!!! I had to think back to my our conversation and remember if I had ever said that about myself. I remember my mom talking about being fat all the time. She still does. She's not fat. She's an beautiful aging woman. She won't listen to me though. The culture has brainwashed her into believing that it all matters.
How did I not turn out like that? Well, my first admit that I do place an emphasis on the opinion of men and woman around me way too much. But I have begun to ground myself in the Word as I have grown in my adult years and so the truths about my worth and even my appearance have begun to take root. I had to face the truth of all this when I suffered some health problems that robbed me of my make-up. I looked like a monster for a good portion of my oldest daughters first year when I developed an allergic reaction to make-up I had been wearing for years. I was so insecure but it started to make me think about it. Through the years I have rested on one particular verse in Proverbs 31.
Charm is deceitful, and beauty is vain,

but a woman who fears the Lord is to be praised. (v.30)
As I have wrestled with that verse and what I knew of this world's values, I have found that I can rest in it's truth. I am not so worried about my weight anymore. Mind you, I will not let myself go or anything. But that is more of a focus on my health as a means of glorifying God than it is vanity. Wrapped up in the little verse is a truth that I am constantly telling my girls. If you are spending more time in front of the mirror than you are in front of the Word of God (thus learning to fear Him) then your priorities are way out of place. That is what I live my life around.
Regardless of what I have preached to my daughter, the enemy has launched an all out attack on my daughter and her heart. She confessed to me tonight that she knows I am trying to win her heart and she just doesn't understand why she won't give it to me. I am seeking the Father to understand if there is something I am doing to push her away despite my efforts. I trust He will show me. But I also know that she's simply fighting and fighting hard. Sending her off to the university school for a couple of hours two days a week has exactly where God has her. But I do believe that some of these ideas and struggles are coming from that situation. She's exposed to friends that are allow certain "priveleges" that she is not. Many of her friends already have phones as well as have email and Facebook accounts. Really?!!!!
That idea blew me away! I got off Facebook for my sanity and to gain extra time for my family. I still wonder what purpose the social networking sites actually have. It's wasted time, in my opinion. I know that people use it to keep in touch with family and such. That is all well and good. But for the vast majority of people, it's not used that way. I am learning that teens are using it to abuse each other with cyber hate mail or simple gossip (as if gossip were that simple.) There are way too many provocative and suggestive pictures posted on others. At times, I wonder if some posts contained a secret language between two people. Many people say they are using it to further the gospel. Really? Is that why people keep posting all those personal pictures of themselves or kids? Does that really glorify God and yourself? This is not a world I ready to introduce to a child that is already self-centered in her very core.
I heart is crying to protect my daughter. I am trying not to tighten the reins too much but that is where my heart wants to go. She's just a little girl. When I was 11 yod, I wanted to still play with my dolls and be a little girl. I moved a suburb of Dallas when I in 5th grade. These girls were wearing make up. They were concerned about boys. They didn't play with dolls anymore. Once I got into 6th grade I realized that I ever wanted to fit in I was going to have to put all that stuff away. What I really wanted was for my mommy and daddy to take me back to a place that I knew as fun and innocent. We thrust our children so quickly into grown up situations. The problem is that we never teach them or equip them in how to respond Biblically in these situations. And the enemy is winning our children.
I don't want this for my daughter. I want to lead her to the cross so that she can find her security in Christ. She belongs to Him. She's a princess of the King of kings. A princess. Have you ever considered that? If you have been bought by the blood of Christ, you are His princess. That idea has impacted my life recently. A princess would be faithful to her father, obedient, trusting. Do I live my life like that toward Christ? Sadly, I act like someone that doesn't want to belong to the King. But I do. This is what I want for my daughter. She doesn't need fancy clothes, phones, social networking. if she's going to place her hope in those, she will be lost and miserable. But if she is courageous enough to follow Christ wholeheartedly even when it's a bit painful to do so, she will find her confidence lies ONLY IN HIM.
21 My son, do not lose sight of these—




keep sound wisdom and discretion,




22 and they will be life for your soul




and adornment for your neck.




23 Then you will walk on your way securely,




and your foot will not stumble.




24 If you lie down, you will not be afraid;




when you lie down, your sleep will be sweet.




25 Do not be afraid of sudden terror




or of the ruin of the wicked, when it comes,




26 for the Lord will be your confidence




and will keep your foot from being caught.




(Proverbs 3:21-26)
I love this verse. As one who has fallen prey to the lies of the self-esteem movement, I found great comfort in knowing I know longer had to look to extrenals to find my confidence. God is my confidence. I still struggle as an adult at times not to worry about what others think of me. "Fear of man will prove to be a snare, but those who trust in the Lord will be kept safe." (Proverbs 29:25) Ironically I learned that verse while seeing a counselor my first year of marriage. I continually have to remind myself not to make man's opinions into an idol. Unfortunately, I am going to through a major overhaul and reteaching from the Lord because much of my life had become about pleasing man rather than pleasing God.
I digress. I am writing this about my daughter. She's a beautiful young girl. I want her to know, however, that she is beautiful not just on the outside, but that it's the heart that really matters. Her beauty will eventually fade. Where will she be when that happens? If her hope lies in her looks, talents, friends, etc., she will be hopeless. But if her hope lies in Christ, she will be very rich indeed.
What about you? Are you raising a tween/teen girl in these volatile times? How are handling these years with her?